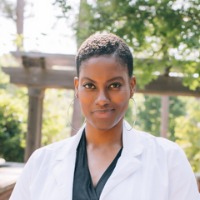 Dr. J Michelle Martin
Pelvic Floor & Perinatal Specialist, Sex Counselor
What I can share
Hi, I'm Dr. J! And I am here to give you the tools you need to ensure you achieve the solutions you want! I am a doctor of physical therapy specializing in pelvic and obstetric health as well as a sex counselor. I have been practicing for 15 years and enjoy working in the field of pelvic and perinatal health and more specifically sexual and reproductive health. Whether working with individuals or couples, I enjoy being on the journey with clients who may be having concerns with intimacy, connections, desire, pleasure/ orgasms not only with themselves but also partners. Even though these may seem like frightening issues, this is exactly what a specialist of my caliber is trained to help you process so that you can create the change you wish to see in these areas.
Packages
Intimacy Solutions Group Coaching series

$1,000.00 for 6 sessions
Already booked a package?
Free, 30 mins
30 minute complimentary call, whether for the purpose of business, networking or just pure connection, I look forward to this time chatting with you.
$75.00 for 30 mins
Are you pregnant or considering being pregnant? Do you have support and guidance throughout your perinatal journey? Doulas have been shown to increase not satisfaction during birth but also decrease interventions including cesareans by up to 40%. Schedule your call now.
$200.00 for 1 hour
Do you have questions or concerns regarding intimacy? Are you struggling to connect with your partner? Are you feeling lost in your own body? Schedule a consultation and let's get started on creating the solutions that you need to experience the intimacy you want!
$350.00 for 1 hour
If you are another professional looking to connect regarding business, or seeking professional mentorship. Schedule a call.
Free, 45 mins
Schedule to be a guest on the podcast, Fueling Her: A Woman's Guide to Wellness We focus on issues that affect women. We focus on women thriving in the community. And, we focus on feel good stories. Come join us, if you are a female professional or the work you do impacts women on a community, national or global scale.