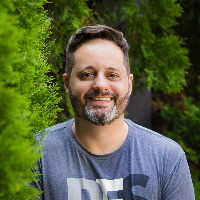 Cristiano d Alcântara
Senior Creative & Brand Specialist
What I can share
I am a creative professional from Brazil passionate about everything related to branding, design, and innovation. I believe that every idea should be allied with a purpose. I've worked for advertising and digital agencies, design studios, broadcast media, and global corporations. This experience helped to improve me in some competencies: • Participation in marketing, design, branding, and communication strategies; • Integrated Communication vision. • Efficiency and innovation focus. • Collaborative, fast and flexible management; • Experience in multi-cultural teams and projects. • Leadership and team collaboration. Specialties: design, branding, communication, creativity, presentation, digital, marketing, design thinking, speech, business strategy, leadership, organizational culture, hr.
Free, 30 mins
A small talk to help people in branding, design, marketing, and creative needs.
$150.00 for 1 hour
Are you struggling to define your brand positioning? Do you have a purpose? How do your clients see your brand and your services? Do they communicate your values, your aspirations, and goals? This consulting is for those that are seeking more than a visual identity or a brand guideline, are for those entrepreneurs seeking to build a strong brand.