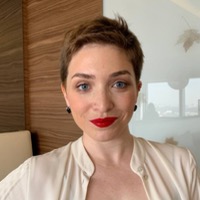 Hi, I'm Anastasía!
PR for deep tech startups & VCs, tech confs; ex-science&tech journalist (BBC)
What I can share
Apart from everything described above, I developed the educational program for the Communications Accelerator by Grechka Media, which was successfully completed by tech startups who defended their PR strategies during Demo Day. I'd be glad to share my experience in the field of media & communications with you. Let me know if you've got any questions regarding your PR strategy (Western markets, Eastern Europe), or you'd like to launch your series of events, or to know more about journalists mindset and expectations from newsmakers. Also, can share some tips on public speaking. My full background here: https://www.linkedin.com/mwlite/in/anastasiaavril
$150.00 for 1 hour
We'll look into your problem, review your current strategy and come up with a couple of scenarios of how you can solve the problem, decide whether you need to correct the strategy, and whether this problem is really worth focusing on right now for you.