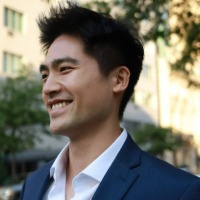 Hi, I'm Alex!
Experienced Product Manager, CMA, EX - Hedge Fund Operations & Financial Analyst
What I can share
I have experience in Finance & Tech industry and interviewed 260 companies including Morgan Stanley, Goldman Sachs, Lending Club, Chewy, Bloomberg, ByteDance, etc. I received seven offers from the companies I interviewed: HedgeServ, Shutterstock, W. R. Berkley Corporation, ATP, GHX, Colliers, and Jackson Hewitt. Throughout my finance experiences, I've worked as an auditor in public accounting firm primarily focusing on hedge fund industry and portfolio financial analyst managing 20 properties in real estate industry. I also worked on hedge fund operations with $62 billion Asset Under Management (AUM) and collaborated with front/middle/back office, tech department, and other internal/external stakeholders. With my tech experiences, I've worked as a product/project manager leading a team of 11 data analysts/developers at S&P Global primarily focusing on investment analytic platforms and built project management products for real estate operations. Currently, I'm a technical product manager/product owner at Jackson Hewitt and managing a team of 7 and a portfolio of 36 products. Being an international student, I truly understand the struggles not only from the sponsorship aspect but also for professionals who either trying to breakthrough into a new industry or students who are actively looking for internships or full-time positions right after college. What I provide is a personalized career consulting services covering: Guidance for Job Application Process, Sponsorship Concerns, Resume/LinkedIn/Cover Letter Review, Interview Preparation/Diagnosis, 1 on 1 Mock Interview, A Series of Interview Breakdown, Networking Guidance, and Offer Negotiation. For a specific industry/position perspective, my expertise is focusing on these positions: Product Analyst, Financial Analyst, Product Management, etc. My goal and mission are to help you get a job, I will try my best to be your buddy with a very flexible calendar so you can set up a call with me at anytime!
$20.00 for 30 mins
A 30 mins slot can be used to discuss high-level questions like what it's like working in finance/tech industry, what's the general interview process, etc.
$30.00 for 45 mins
A 45 mins slot is useful for discussing in-depth challenges and goals.
$40.00 for 1 hour
A one hour slot is useful for discussing in-depth challenges and goals.