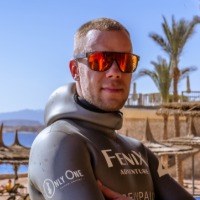 Hi, I'm Kaspar!
The Deepest Estonian Freediver
What I can share
Hey! I'm a deep freediver with more than 8 years of experience. I have a strong background in depth and equalization management. I am also an Estonian National Record holder in No Limits discipline with a dive to 101 metres of depth. I'm ready to provide my support and knowledge that I've gained through all the years, especially for all the newcomers in this sport, who want to discover the world beneath the water, as well as their own physical and mental limits. I provide one-on-one and group sessions aswell, please feel free to find my services and pre-formed lessons provided below on the page. I also provide on-demand custom lessons, just let me know what do you need and we'll give it a go!
€30.00 for 45 mins
So you found freediving as a sport exciting but dont know where to start from? Introduction to freediving is a great way to start your journey in the blue. We'll get through the freediving theoretical basics and after the lesson you're ready to move on to the practical introduction exercises.
€30.00 for 45 mins
Fine-tuning your diving technique on your own can be complicated. This is the reason why my technique analysis session is a good way to check and improve your technique.
€30.00 for 45 mins
Doing dry workouts while being out of the water plays a critical role in our success. There's a lot we can do while we're far from the depth or pool. We just have to know which exercises to choose in order to build strong fundamentals in the water.
€30.00 for 45 mins
So you know how to use diaphragm for breathing, how to hold your breath safely and feel better in the water? Now it's time to plunge deeper! But wait, first you need to learn the basics of equalization, in order to manage the pressure underwater.
€30.00 for 45 mins
During the On-Demand custom session we will get through whatever the topic is.