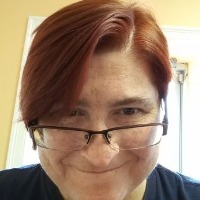 Hi, I'm Jes!
Date Doctor at Your Service
What I can share
Hello there! If you are "of a certain age" you may be familiar with the movie "Hitch" from 2005. The actor who shall remain nameless thanks to his Oscar's shenanigans plays a date doctor who helps schlubby guys with hearts of gold concoct schemes to make the girls of their dreams finally notice them and their great qualities. I've made a niche (including a book, a live action show, and a workshop) by assisting women interested in dating other women learn how to date from the other side of the mirror, so to speak. Apparently my book is applicable to anyone who is single or looking, and wants to know how to make a good impression. I am open to group coaching sessions, one-on-one tutorials, virtual talks for community groups and book readings for local groups. You can find my book on Amazon, it's The Last Best Lesbian Dating Guide. If you have questions about my qualifications or why I'm so good at what I do, please don't hesitate to reach out.
Free, 15 mins
Find out if you're ready to date, and find out what it takes to be successful. Then sign up for a one-on-one coaching session and get to the nitty gritty of successfully dating.
$30.00 for 45 mins
Personalized advice on your specific dating situation, materials, and
$80.00 for 1 hour
Gather a few friends for a frank discussion of dating life as a lesbian or queer woman, and generate ideas, share stories, build camaraderie and support. Bring yourself and up to 3 friends.
$1.00 for 1 hour
Schedule a lecture or a book reading/signing for your group or community. Cost varies based on location, duration, and accommodations.