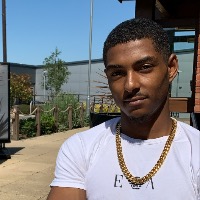 Hi, I'm Darnell!
Life Coach & Spiritual Guidance
What I can share
I am here to implement my purpose and that is to make sure that everyone that I come into contact with reaches their full potential. I am very passionately involved in helping other in personal life situations and spiritual blockages. I am an expert in my work and before I managed to find this amazing website I was helping people through my very own telephone line with reoccurring customers. I help you remember and find that spark inside you, if you feel as if you know someone better than you , if you need realist advice , if you need a shoulder to cry on , if you need to vent I am here. Their is no question I don't have an answer for. But please note that energy will be reflected so be polite and genuine and that is what you shall receive.
£27.00 for 15 mins
Quick and Easy Consultation
£78.00 for 45 mins
Nice in depth consultation weather it's personal life or spiritual. Sky is the limit
£180.00 for 1.5 hours
Spiritual & Personal Consultation
£350.00 for 2 hours
Special advice and help Spiritual and Personal.
Timezone:
Loading timezone...